Free shipping in Canada
This pressure sensor can measure up to 100 Bar (1000m depth) with a depth resolution of 3 cm. It is waterproof and ready to install. This updated version has a PEEK body to minimize galvanic corrosion.

Product Description
The Bar100 pressure sensor is a high-pressure underwater pressure sensor that is sealed from the water and ready to install in a watertight enclosure on your ROV, AUV, or other project. This sensor can measure depths down to 1000 meters, so you can go deeper than ever before! The sensor is the Keller LD Series pressure/temperature sensor with I2C communication. It has a pressure resolution of 3 mbar, providing a depth measurement resolution of 3 cm in the water column! It operates on 3.3V I2C voltage but can accept power input up to 5.5V, just like the Bar30. It comes standard with a 4-pin DF13 connector that is compatible with most autopilots including the PixHawk and others.

This sensor includes a temperature sensor accurate to ±2°C, with data also accessible through I2C. If you need something with more temperature accuracy, please check out the Celsius Temperature Sensor.
Specifications
Parameter
Value
Electrical
Supply Voltage
2.5 - 5.5 volts
I2C Logic Voltage (SDA and SCL)
1.8 - 3.6 volts
Peak Current
1.5 mA
Mating Connector

 

Hirose 4-pos DF13 available on Digi-Key
Pressure
Maximum Mechanical Pressure
350 bar
5076 psi
Operating Pressure
0 - 100 bar
0 - 1350 psi
Operating Depth
0 - 1020 m
0 - 3345 ft
Absolute Accuracy (0-50°C)
+/- 500 mbar (5.1 m in freshwater)
+/- 7.25 psi (16.75 ft in freshwater)
Resolution
3 mbar (3 cm in freshwater)
0.045 psi (0.1 ft in freshwater)
Temperature
Operating Temperature
-40°C - 110°C
-40°F - 230°F
Absolute Accuracy
+/- 2°C (when used between 0-50°C)
+/- 3.6°F
Physical
Recommended Through Hole Size
10.2 mm
13/32"
Recommended Installation Torque
Hand tight or no more than 1.2 N-m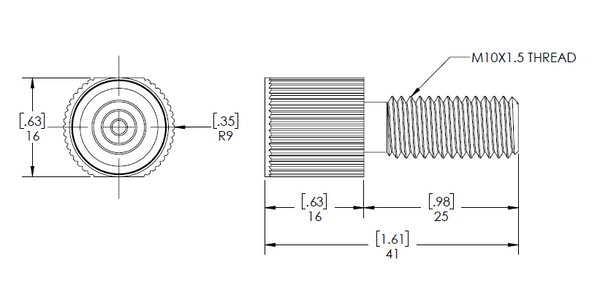 Contents

1 x Bar100 Pressure Sensor
1 x O-ring
1 x Nut
Distributor of Blue Robotics