Free shipping in Canada on orders over $2,000 CAD
This professional-grade neutrally buoyant tether combines rugged strength and durability with high-performance electrical characteristics for wide-ranging ROV and subsea applications.
The new R3 version of the tether has a comes with pre-installed Binder 770 connector and WetLink cable penetrator.

Product Description

The Fathom Tether is a high quality tether cable designed specifically for ROVs and other subsea applications. It is neutrally buoyant, has 350 lb breaking strength, and is embedded with water-blocking fibers to seal any leaks. The tether has a diameter of 7.6mm and is slimmer than the vast majority of comparable ROV tethers.
The tether carries four unshielded twisted pairs (UTP) of 26AWG wire. These pairs are colored and arranged in the same fashion as a Cat5 networking cable including cross-talk resistance. A pre-installed Binder 770 Plug makes it easy to connect to the FXTI and Fathom Spool. A WetLink penetrator is installed at the other end to interface with the BlueROV2 or any of our watertight enclosures.
The core of the cable contains Kevlar strands for strength and Dacron fibers for space filling. Both fibers are impregnated with waterblocking compound to block any leaks caused by nicks or rips in the cable. The high-visibility yellow polyurethane foam jacket resists abrasion and provides neutral buoyancy.
The stiffness of the cable is designed to be flexible enough to give plenty of freedom to your ROV, but stiff enough that it does not become tangled easily. Due to the polyurethane jacket in the new version, the tether is more flexible than the original version.
The capabilities of this tether are meant to provide design flexibility and a wide variety of uses. Pololu carries the 3 position 0.1" (2.54mm) Crimp Connector Housings and male crimp pins that may be used for connecting your own devices to the spare tether terminations.
We also have this cable available by the meter with no terminations at either end.
Specifications
Parameter
Value
Performance
Maximum Rated Depth (seawater)
950 m
3116 ft
Design Lifetime¹
3 years or 500 cycles to rated depth
Temperature Rating (air)
-25 to 60°C
-13 to 140°F
Temperature Rating (water)
0 to 40°C
32 to 104°F
Installed Penetrators and Connectors
Topside
Binder 770 Plug
ROV Side
WLP-M10-7.55MM-HC 
Twisted Pairs
0.1" Header Pins, 3 Position
Tools
Compatible Bulkhead Wrench
WL-M10-BULKHEAD-WRENCH
Recommended Installation Torque
3.5 Nm
Physical
Tether Diameter
7.6 mm
Weight
0.043 kg/m
Outer Jacket
Polyurethane Foam
Buoyancy in Freshwater
Neutral
Buoyancy in Saltwater
Slightly Positive
Wire Gauge
0.14 mm²
26 AWG
Working Strength
35 kgf
80 lb
Breaking Strength
155 kgf
350 lb
Minimum Working Bend Diameter
75 mm
3 in
Recommended WLP Thru Hole Diameter
10.2 mm
Bulkhead Thread
M10 x 1.5
Bulkhead Thread Length
20 mm
Bulkhead/Nut Wrench Flats
16 mm
Overall Assembled Height From Endcap
25 mm
Overall Outer Diameter
18 mm
Bulkhead O-ring Size
AS5568-013 Buna-N 70A
Bulkhead/ Plug Material
7075-T6 Anodized Aluminum
Wetted Materials
Buna-N Rubber
Molykote 111 Compound
7075-T6 Anodized Aluminum
PUR Foam
Electrical
DC Resistance @ 20°C
0.0386 Ω/ft
0.127 Ω/m
Insulation Resistance @ 500 VDC
> 500 MΩ/kft
> 1640 MΩ/km
Voltage Rating
300 VDC
¹ Design life was used to inform testing in an accelerated environment, does not reflect warranty period.


Pinout
| Pair | Wire | Color | Binder Connector Pin # |
| --- | --- | --- | --- |
| Pair 1 | Wire 1 | Blue | 1 |
| | Wire 2 | Blue/White | 2 |
| Pair 2 | Wire 1 | Orange | 3 |
| | Wire 2 | Orange/White | 4 |
| Pair 3 | Wire 1 | Green | 5 |
| | Wire 2 | Green/White | 6 |
| Pair 4 | Wire 1 | Brown | 7 |
| | Wire 2 | Brown/White | 8 |
Cross sectional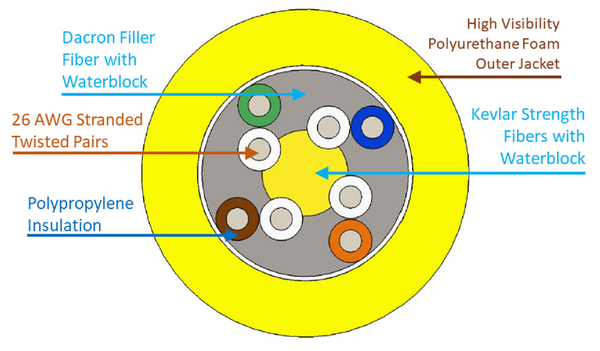 Contents
1 x Fathom ROV Tether with Installed Binder 770 Plug and WetLink Penetrator (of the selected length)
1 x Header Pin to Ferrule Adapter to Connect to Fathom-X
1 x Tether Cable Thimble
1 x M10 Nut
1 x O-ring for Bulkhead
5 x Heavy Duty Zip Ties