Free shipping in Canada on orders over $2,000 CAD
This digital HD USB camera has excellent low-light performance, onboard compression, and a specially chosen lens to provide fantastic video quality on ROVs and other subsea applications!

Product Description
This Low-Light HD USB Camera is ideally suited to use underwater with excellent low-light performance, good color handling, and onboard video compression. A specially-chosen wide-angle, low distortion lens provides excellent picture quality on the ROV.

Based on the Sony IMX322 sensor, this camera uses a large sensor (1/2.9″) and a relatively low pixel count (2MP, 1080p), meaning that the physical pixel size is large to allow maximum light sensitivity. We've had this camera down at 300m depth, where we could see subtle bioluminescent creatures in the darkness!

The camera also has an onboard H.264 compression chip so that all of the video compression is done onboard and doesn't place much load on the main computer. That also means that we'll be able to support multiple cameras in the future for alternate views.

This camera is fully supported in ArduSub. Includes an 8″ USB cable with JST-PH connector.

The camera's PCB is 32 x 32mm and works well with our Camera Tilt System.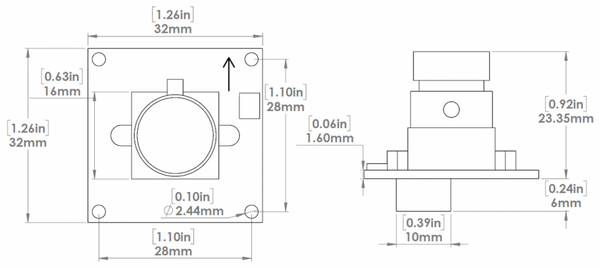 Specifications
Parameter
Value
Physical
Camera PCB Dimensions
32mm x 32mm
Mounting Hole Spacing
28mm x 28mm
Connector
JST-PH to USB
Performance
Field of View (Horizontal)
80°
Field of View (Vertical)
64°
Focal Length
2.97 mm
Format
1/2.9"
Distortion
1%
Resolution
2.24 MP
Standard
1080p
Compression format
H.264 / MJPEG / YUV2(YUYV)
Working Temperature
-20-75°C
Minimum Illumination
0.01 lux
Sensitivity
5.0V/lux-sec@550nm
Electrical
Supply Voltage
5 volts
Max Power Draw
220mA
Contents
1 x Low-Light HD USB Camera
1 x 8″ (200mm) USB Cable