Free shipping in Canada
The T200 Thruster is the world's most popular underwater thruster for ROVs, AUVs, surface vessels, and more! Its patented flooded motor design makes it powerful, efficient, compact, and affordable. The T200 is in use on thousands of marine robotic vehicles around the world including the ROV.
The T200 Thruster uses our patented underwater thruster design consisting of a fully-flooded brushless motor with encapsulated motor windings and stator as well as coated magnets and rotor. The thruster body and propeller are made from tough polycarbonate plastic and the only exposed metal components are made from marine grade 316 stainless steel.
The fully-flooded design is unique compared to thrusters existing before the T200. It allows the motor to be water-cooled and the plastic bushings to be water-lubricated. It eliminates the need for shaft seals, magnetic couplings, and air- or oil-filled compartments, making the thruster naturally pressure tolerant. The design is compact and has a minimal number of parts so that we can offer it at an affordable price.

The core motor design is a three-phase brushless outrunner motor, similar to what you'd see on drones and RC airplanes, but optimized for underwater use. A sensorless brushless electronic speed controller (ESC) like our Basic ESC is required to run the thruster in all situations. It's optimized to run at a voltage of 16v (such as a 4s lithium-ion battery pack), but can run at a range of voltages. Check out the detailed performance charts on the Technical Details tab for more information.
The T200 Thruster comes ready to use and includes both clockwise and counterclockwise propellers. In addition to the thruster, you need a speed controller like our Basic ESC, a power source like our battery, and a signal source, such as our Thruster Commander, an RC radio receiver, or a microcontroller like the Arduino or Raspberry Pi.
There is a wealth of available technical information, charts, code examples, and tutorials on the Technical Details and Learn sections of this page as well as support through our online forum community. There you can find users doing all sorts of interesting things ranging from generative ROV design to freediving jet boots to lionfish hunting robots!
Specifications
Parameter
Value
Performance
Full Throttle FWD/REV Thrust @ Nominal (16 V)
5.25 / 4.1 kg f
11.6 / 9.0 lb f
Full Throttle FWD/REV Thrust @ Maximum (20 V)
6.7 / 5.05 kg f
14.8 / 11.1 lb f
Minimum Thrust
0.02 kg f*
0.05 lb f*
Electrical
Operating Voltage
7-20 volts
Full Throttle Current @ Nominal (16 V)
24 Amps
Full Throttle Current @ Maximum (20 V)
32 Amps
Full Throttle Power @ Nominal (16 V)
390 Watts
Full Throttle Power @ Maximum (20 V)
645 Watts
Physical
Length
113 mm
4.45 in
Diameter
100 mm
3.9 in
Weight in Air (with 1m cable)
0.76 lb
344 g
Weight in Water (with 1m cable)
0.34 lb
156 g
Propeller Diameter
76 mm
3.0 in
Mounting Hole Threads
M3 x 0.5
Mounting Hole Spacing
19 mm
0.75 in
Cable Length (Standard T200)
1.0 m
39 in
Cable Length (T200 BlueROV2 Spare)
0.71 m
28 in
Cable Diameter
6.3 mm
0.25 in
T200 Thruster Performance
Thrust at 10-20 V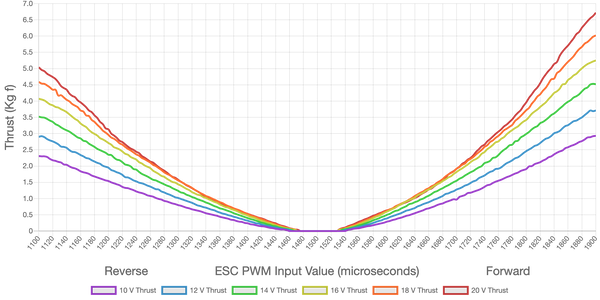 Current Draw at 10-20 V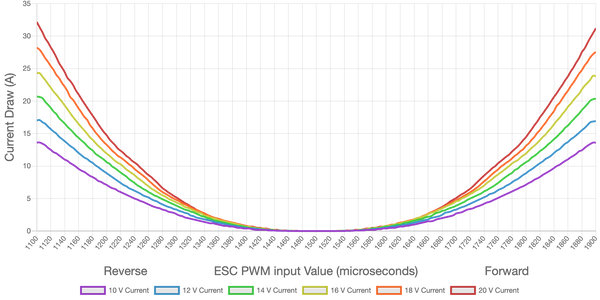 Efficiency at 10-20 V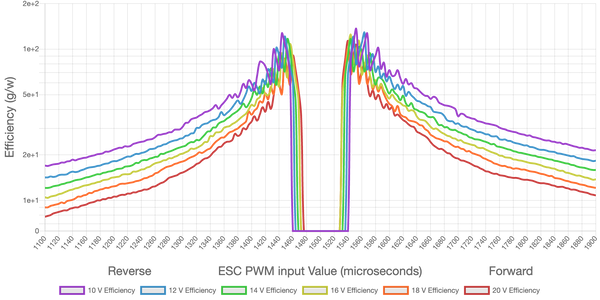 Thrust and Power at 10-20 V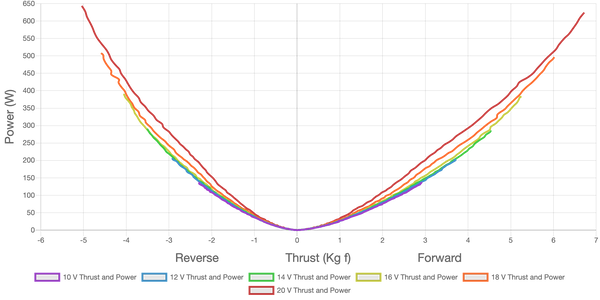 RPM at 10-20 V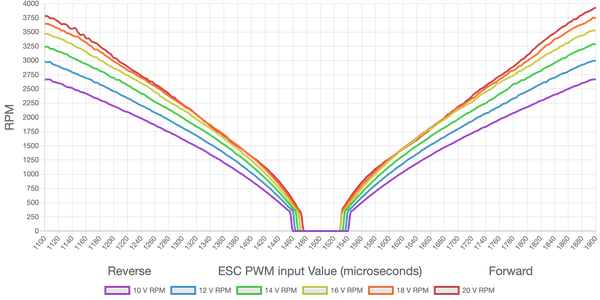 Contents

1 x T200 Thruster
1 x Clockwise and counterclockwise propeller


Distributor of Blue Robotics